Most of us have heard something or even seen the commercials about this mascara with its "morning star" weapon-like head.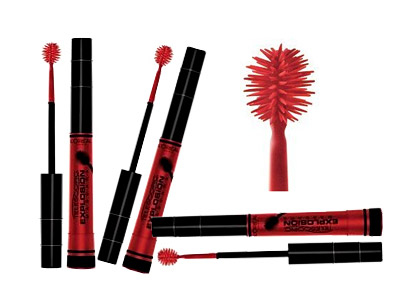 I've been wanting to try it since it does claim that it reaches even the tiniest of lashes. I have sort of crazy lashes that can grow super long and at super annoying angles, like straight down into my eye! The outer corners are longer and much harder for me to reach as the upper and lowers lashes touch and often get tangled. The very tips of my upper lashes can sometimes randomly curl in any direction. Most girls need eyelash curlers...I could sure use a straightener on mine! Seriously, they look nuts!
Anyway, I took some before and after pictures as soon as I woke up. So excuse my tired/puffy eyes. I wanted to try this out before I washed my face to get ready for my makeup ritual. :-)
Natural:

With mascara:

Um...yeah, they look crazy. So I can say it does make my lashes seem longer/fuller. However, it claims it doesn't leave clumps, but it does after 2 coats.
Pros:
Affordable (I bought mine at Walmart for under $10)
Brush head works for easy application of harder to reach lashes
Cons:
Clumps after 2 coats
Takes a bit longer to apply since the brush is smaller but not a big deal
I'm not sure at this time if I would buy it again. I will keep using this and add more to this review as it comes to me.
Has anyone else tried this? I'm curious to know what you think.